Monitoring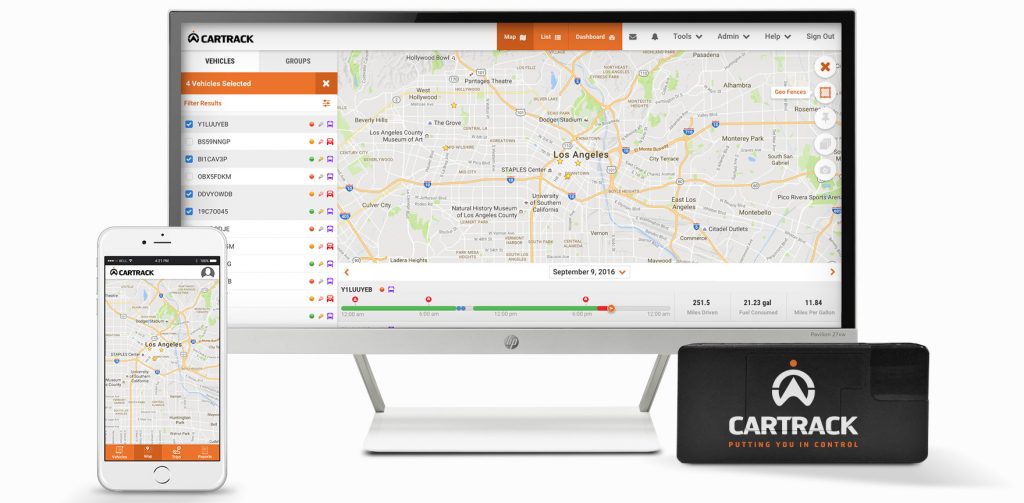 Cartrack's online software platform gives you access to the monitoring systems of all your vehicles in real time, 24 hours a day on any platform (computer, tablet or smartphone).
You can locate all vehicles in a fleet at any time, while simultaneously receiving fundamental data that will enable you to implement more efficient and effective management.
The real-time fleet management area on the map allows users to perform various actions, such as knowing the status and current location of the fleet's vehicles.
Reports
The defined and specific nature of fleet reports enables you to better understand and analyse the history of your fleet, which subsequently helps you to optimise your vehicles' operations and facilitates the identification of areas that require improvement.
These reports are ideal for companies that require a substantial amount of information related to costs and productivity.
Alerts
You can receive automatic alerts in real-time via SMS and email whenever faults, exceptions or infractions are registered by vehicles, including the entry and exit of geofences, speeding and idling.
These alerts are customisable and can be defined and adapted according to the needs of your company. Once these alerts are configured, you can take immediate action whenever anomalies in daily vehicle activity occur.
Recovery of Stolen Vehicles
In addition to real-time monitoring, Cartrack has a dedicated team of professionals available 24 hours a day to aid in the recovery of stolen vehicles.
Real-time access to the location of your vehicle also allows the local authorities to quickly intervene and aid in the recovery of stolen vehicles.
Cartrack's safety and recovery solutions can be installed on any type of vehicle, objects or cargo.
You will receive automatic alerts
Management of procedures with the authorities is handled by Cartrack
A service is available for any type of vehicle or cargo
There is a 98% success rate of vehicle recovery
24-hour monitoring room 365 days
Real-time location
GPS and radio frequency location is enabled
ADDED SOLUTIONS
Cartrack's fleet management service includes an integrated set of technological solutions that contributes decisively to improving productivity and reducing costs. A computer platform and a set of real-time reports and alerts ensure that the fleet manager's level of efficiency and effectiveness is at a premium.